EVIL Chamois Hagar Gravel Rival AXS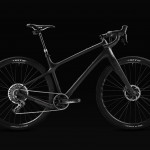 EVIL Chamois Hagar Gravel Rival AXS
145,000,000₫
The Chamois Hagar defies classification and exudes stoke, taking what we knew gravel to be, and redefining it. 700 x 50c tire clearance, 430mm chainstays, a 66.67-degree headtube angle, 80mm of BB drop, real reach and wheelbase measurements, and a mind-numbing array of customizable configurations.
INTRODUCING THE CHAMOIS HAGAR
WTF! That's right! You heard it correctly. Some of us here have been known to wear tighter-fitting clothes and pedal long distances to visit nature's delights, we also saw the huge dollar signs in gravel which could fund the development of other ridiculous projects like a beer-powered jet ski. We have made what appears to be, in fact, a gravel bike—but not just any gravel bike. This gravel bike or The Hagar as we call it, has borrowed some things from its fully suspended Evil family members. In an effort to be less terrified and have more fun we drew inspiration from the Offering which uses a longer front to center and reach, shorter stem, and 430mm chain stays to supply mountain bike stability and handling to the twitchy gravel category. We have added more trail and chainstay length for higher speeds both on and off gravel, while allowing for more party on singletrack. In addition to aggressive geometry we added clearance for 50c tires for the most ambitious adventures. Super-low standover heights and dropper posts keep blood pressures in check when things point downward. 140-160mm Flat mount or MTB discs hold down the stopping duties. And while shred pumps through the Chamois Hagar's veins, versatility grounds the Hagar's infectious energy. Seven water bottle mounts, stealth rack and fender mounts, 1x and 2x options, close ratio and wide-range builds, internal routing, Di2 provisions, and 100 x 12/142 x 12 spacing just begin to tell its story. There's even rubber frame protection for when things get loose and rowdy. And while a 66.67 headtube angle may beckon berm-slapping daydreams, the Hagar begs to be ripped anywhere. For those wanting to tear legs off, we made sure it's at home devouring pavement on 34mm tires. For those wheeling to work, run a flat bar and bolt on a rack. Gritting your way through a weather-ravaged rando? Weather-sealed frame plugs keep the Chamois Hagar watertight. Our builds offer 125mm, 150mm and 180mm droppers so you still have room for a seatbag dropper while the multi water bottle boss layout allows for full or partial frame bags with hydration to spare—bikepacker's delight. If you're looking to pigeon hole, the Chamois Hagar defies classification. And shamefaced as we may be about now being in the gravel market, we're not even sure we're in it. Maybe we've invaded it, a hostile takeover—alert the press, gravel's been hijacked and the Chamois Hagar's here to party. Because with the Chamois Hagar, you don't rethink riding. You board the Hagar and ride how you ride. It's meant for that. It wants it. Enough so that you ride that way even if it wasn't your intention, even if you're going long chasing light, searing past bewildered dirt tourists, or making your commute not suck. It has that effect—it is what it is and it isn't sorry about it—and that's just what we intended.
Item
Description
Available Sizes:
Small, Medium, Large, X-Large
Frame:
Evil Chamois Hagar UD Carbon, Internal Routing, 142x12, Flat Mount Road, Braze-On Adapter
Shock:
N/A
Headset:
CaneCreek 40-Series, Cups: ZS44/28.6 (Upper) and ZS62/40(Lower), Bearing: 36° x 45° - 41mm (Upper) and 36° x 45° - 52mm (Lower) ZN40 Zinc Coated(no race) w/compression preload plug
Headset Spacers:
Poly Spacers 5mm black
Fork:
Evil Carbon Chamois Hagar Fork, 12x100mm Thru-Axle, Flat Mount Brakes
Handlebar:
EASTON EA70 AX,Reach 80mm, Drop 120mm, Flare 16˚, S/M 44cm, L/XL 46cm
Stem:
Evil Stem, Length:50mm, Clamp:31.8
Grips:
Evil Gravel Tape w/Gel
Brakes - Front:
SRAM Rival eTap, Flat Mount
Brakes - Rear:
SRAM Rival eTap, Flat Mount
Rotor - Front:
SRAM CenterLine X Rotor 160mm
Rotor - Rear:
SRAM CenterLine X Rotor 160mm
Brake Adapter:
Flat Mount 160mm
Shifter:
SRAM Rival eTap AXS HRD Shift-Brake
Rear Derailleur:
SRAM GX AXS Lunar
Cassette:
SRAM GX 10-52 Lunar
Chain:
SRAM GX Eagle w/Powerlock
Crankset:
SRAM Force 1 Carbon, DUB, 38t, 172.5mm
Bottom Bracket:
SRAM DUB 68mm BSA
Wheelset - Front:
WTB Proterra Light i23, Tubeless
Wheelset - Rear:
WTB Proterra Light i23, Tubeless
Tire - Front:
WTB Venture 700x50c TCS, w/ Black Wall
Tire - Rear:
WTB Venture 700x50c TCS, w/ Black Wall
Tubes:
Stan's No Tubes Tubeless Sealant
Seatpost:
SRAM AXS Reverb, 30.9, S: 125mm, M: 150mm, L/XL: 170mm
Saddle:
WTB Volt Medium (142mm) Width Chromoly Saddle
Note:
Specifications are subject to change without notice